The economic crisis and the subsequent foreclosures resulted in the California legislature enacting a number of laws to assist homeowners and tenants of houses in trouble. One such law, Civil Code section 2923.5, requires that the foreclosing party must first contact the borrower, assess their financial condition, and explore options for the borrower to avoid foreclosure. A California court recently ruled that borrower can allege failure to follow the requirement gives the borrower the right to make a claim in court.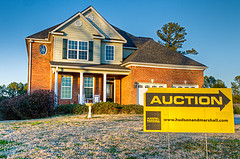 The borrower in Skov v. U.S. Bank National Association borrowed $1.5 million in 2003, secured by her residential property in Saratoga. She stopped making payments, and a Notice of default was recorded in June 2009. (This is not the usual case, housing price inflation was not rampant in 2003) Skov filed suit; it is not clear from the opinion, but looks like suit was filed before the foreclosure sale (good move) and Skov probably got a preliminary injunction.
One of the plaintiff's claims was that U.S. Bank did not follow the requirements of Civil Code section 2923.5. It was claimed that U. S. Bank never contacted Skov before recording the notice of default. She hired attorneys who telephoned and sent letters to U.S. Bank which were unanswered. U.S. Bank failed to evaluate her finances or explore options to avoid foreclosure. U.S. Bank did not contact her until a month after it recorded the Notice of default.
U.S. Bank claimed that there is no "private right of action" for noncompliance with the law. That would mean that a borrower could not raise the issue in a lawsuit. The court disagreed. Otherwise, the "statute would become a meaningless dead letter if no individual enforcement were allowed."
While the only remedy for not following the statute is the postponement of the foreclosure sale, this still might be a valuable remedy for some homeowners. People finding themselves in this situation should contact an experienced Sacramento and Stockton real estate attorney to ensure that their best interests are protected.