When the same debt is secured by liens on both real property and personal property, the lender has options as to how they are allowed to enforce their security interest. They can enforce against the real property under real property law, against personal property under the Commercial Code, or both. There are specifics under both areas of law which must be observed, or the lender may lose their security, and a party in this situation may want to consult with a business and real estate attorney. Otherwise, they may run into the problem faced by a lender recently when they failed to adequately describe the personal property in the deed of trust. The Court of Appeals found that the deed of trust did not successfully describe personal property as additional security, and thus any further recourse for the lender would be contrary to the purpose of the antideficiency laws.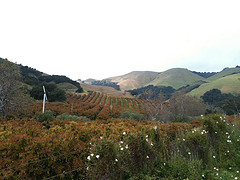 In Thoryk v. San Diego Gas and Electric Company, the owner of an avocado ranch in San Diego County wanted to subdivide it into two-acre homesites. The owner borrowed $1 and ½ million from Highland for this purpose. There was a wildfire which did extensive damage to the property, and the project stopped. Highland foreclosed and obtained title to the property. The owner believed that San Diego Gas and Electric was at fault and sued for damages. Highland joined the suit, claiming that its deed of trust was secured by more than just the property, and extended to any of the owner's recovery of damages caused to the property; i.e. it was also secured by personal property. Highland argued that it was entitled to a judicially imposed lien under the terms of its deed of trust and related note.
The owner argued that he was protected by the antideficiency laws, which prohibits collecting money from the owner after a trustee's sale. However, where there are liens established upon both personal and real property in the subject transaction, a foreclosing lienholder using the power of sale may continue to pursue remedies against the former property owner/borrower. The creditor is not seeking a personal judgment for the unpaid balance of a loan, but instead seeks to enforce additional security secondarily liable for the principal loan.